If you are writing something at 1:35 AM in the night then it either has to be some urgent submission, a project deadline or something special that you wanted to write on for an entire day but was not able to do so due to your cramped schedule. Well for me the last one is absolutely true.  It's my Birthday today & I want to celebrate the Big Day by doing something different. Well, many of you may be wondering this guy is either insane or high on alcohol that he is sharing a Blog on his birthday by writing about it by himself. Well you can say I am insane in adoring him & high on following him religiously throughout my life.
For many 12 AM on a particular date is the time when they are on ultra active mode waiting for a phone call or a WhatsApp Msg or someone ringing their doorbell to wish them a Happy Birthday. For Sachin Fans the same feeling crops up on 23rd April. Well, no one will call us, or ring Bell of our house with a Birthday Cake but still, that feeling of waiting for 12 AM is something special. As the clock ticks 12, every Sachin-ist will say it either loudly or through a small murmur "Happy Birthday Sachin". That's the relationship we share with our Idol.
As the clock ticks past 12 on the 23rd night, those glorious memories of our childhood come alive in front of us were Sachin was at center stage. For some its 1992 World Cup match-winning performance against Pakistan, for others, it might be the Sharjah 100 he hit on a Stormy Night in the Desert against the Aussies & for some it might be Sachin Tendulkar being lifted by Virat Kohli on his shoulders after India won the 2011 World Cup. But for me, the best memory has to be the chants of "Sachin…Sachin" which I have been part of with many others at Wankhede for almost 2 decades.
For me, Sachin-ism began when I was a 13-year-old kid. It was an early morning on 27th March 1994 & I remember that I saw a young boy on TV smashing Gavin Larsen & Co all around the park at the beautiful stadium of Auckland.  I don't recollect much about that innings apart from the fact that he was opening for the first time & he was playing in the fashion no one has played ever as an opener for Team India. So for almost 2 decades romance with his Batting continued till he hung his boots from all forms of Cricket on 16th November 2013 at his Temple named Wankhede.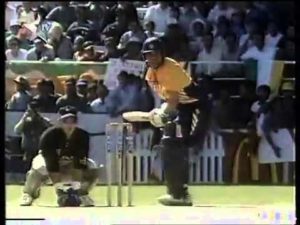 For most of us, Sachin Innings are a benchmark which we use to recollect our past. For Eg: when he scored back to back 100s against Aussies in Sharjah I was in 9th Standard or when he scored his iconic 98 against Pakistan in 2003 World Cup I had just finished my graduation. From bunking school to bunking college to bunking office for 2 days during his last Test all have been memorable & so beautiful, to say the least. His straight drives, cover drives, cut shots, pull shots were the best source of entertainment for Sachin-ists like me. When he used to bat on the 90s the nervousness was more than we felt during our exams.
Well, most of the people know what Sachin Tendulkar achieved in Cricket but for me what he achieved outside the game is equally important. A down to earth person he still finds time to eat Vada Pav at Shivaji Park Ground & to play a game of Cricket on Streets of Mumbai. Legends like Bradman respected him, opponents like Shane Warne were scared of him & modern day wonder like Virat Kohli worships him. Everyone knows about the huge amount of money the cricketers earn today but the main reason behind that is this man. This man singlehandedly transformed the game of Cricket as a religion in India & was crowned as the God of that Beautiful Game by millions.
I still remember that night of 23rd March 2007 when India was just knocked out of the World Cup & Sachin Tendulkar along with Legends like Rahul Dravid, Sourav Ganguly almost cried in the dressing room of Port of Spain in West Indies. Like other Sachin-ists sadness was doubled as India were knocked out of the World Cup & it seemed like the man who gave his all for the country & almost won the Cup single handedly in 2003 will end his career without the glorious World Cup Trophy to his name.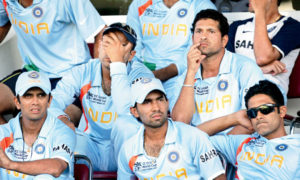 They say Winners never Quit, same happened with this man as he continued to chase his dream fighting injuries & age for almost 4 years. Finally, on the blissful night of 2nd April at his Temple in Wankhede his dream had been turned into reality. Sachin Tendulkar holding the World Cup Trophy in his hand will the best sight in World Cricket for me forever. Well If I start writing about his career & achievements I may end up scripting a Novel on him. So I wind up this Inning of my Blog with the Beautiful Birthday Wishes to the "Master of the Game"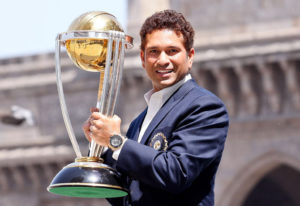 Happy Birthday to Sachin Ramesh Tendulkar, the middle Case Marathi Boy from by lanes of Sahitya Sahwas in Bandra who became a 'BharatRatna'  i.e. a Jewel of India.