Gujarat Elections is the current hot topic in Newspapers, Social Media, TV Channels & so on. So decided to do a small write-up on the same. The state is set to go on polls in two phases. The first phase is on December 9 i.e. tomorrow while polling for the second phase will be conducted on December 14.  From Hardik's ' Sex CD', to 'HAJ' vs "RAM" to yesterday's episode of Manishankar Aiyar and PM Narendra Modi, the campaigning for the elections has been the talking point for many. The campaign was high-octane but at times reached an extreme low.
Important Facts about Gujarat Elections
There are total of 182 constituencies in the state of Gujarat
As mentioned earlier voting will be conducted in two phases on December 9 & December 14 and counting will be carried out on December 18 for both the phases.
The state is currently ruled by the Bhartiya Janata Party while Congress is in the opposition.
BJP has been in power in Gujarat for last 22 years.
Total number of voters are approximately 4,33,11,321
My Analysis
Well, I am not going to get into the detail about the candidates, the stronghold of a particular party & so on. Just presenting my small analysis based on the sources I follow mainly Social Media & News Channels to an extent.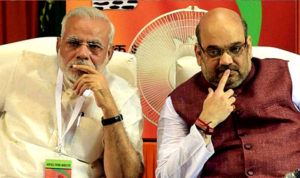 BJP – The favorites to win Gujarat Elections
With BJP ruling in the centre in full majority & PM Modi hailing from Gujarat, BJP were always favorites to get full majority in Gujarat Polls. Another point to note is that BJP is ruling Gujarat for 22 years. So people of Gujarat have been supporting BJP since last two decades. Gujarat model which PM Modi always talks about is the key for BJP in the elections. Also, Narendra Modi & Amit Shah the "Bhumiputras" now hold a significant place in BJP & Indian Politics.
If Gujaratis believe in PM Modi's Gujarat development model than I see a very easy victory of BJP in the state. However, a surprise challenge by Congress party & Patidar community leader Hardik Patel has given BJP some tough time during campaigning. But with PM Modi in charge of campaigning in Gujarat, I see BJP winning the elections comfortably.
Congress Challenge & the surprising rise of Rahul Gandhi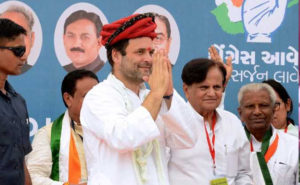 Around a year or so back especially when Congress played the second fiddle in UP & Bihar elections no Political Analysts may have given any chance to Congress in Gujarat Elections. However, the surprising rise of Rahul Gandhi has been the welcome change for the party. Congress had nothing to lose in Gujarat as nobody had given them a chance over there. Rahul Gandhi has taken perfect advantage of this situation.
Always trolled as "Pappu" of Indian Politics mainly by the opposition, Rahul Gandhi, to everyone's surprise, dished out some impressive speeches during Gujarat Election campaign. Congress party's campaign was well planned and organized and created a flutter in BJP's camp. As a result, everyone from PM Modi to Amit Shah got ultra-involved in Gujarat campaigning.  In addition to Modi & Shah, BJP heavyweights from other states were also called to campaign for BJP in poll-bound Gujarat.
Hardik Patel's support was a masterstroke for Congress and has created some panic in BJP's camp for sure. I don't see Congress winning Gujarat Elections but even if they get more votes than they got last time it will be a moral victory for the party. Last time Congress had won 60 seats in Gujarat. If they win more than that it will give a lifeline to Congress which is in dire straits currently.
BJP's 'HAJ- Hardik, Alpesh, Jignesh in Gujarat Elections
Patidar leader Hardik Patel, OBC leader Alpesh Thakore & SC/ST leader Jignesh Mevani have come together against the BJP and are fighting for demands like Reservation, Job & Development of Gujarati youths & so on. All three youngsters have over a period captured the attention of sizeable youths in Gujarat. This has raised some concerns for BJP  which resulted in the party bringing in the communal angle.
A few days back a poster went viral on Social Media terming upcoming Gujarat Elections as a face-off between "HAJ" & "RAM" which stands for Gujarat CM Vijay Rupani, BJP Chief Amit Shah & PM Narendra Modi (Rupani, Amit, Modi). It seems that BJP has surely become wary of the Trio joining hands with Congress.
Will the people of Gujarat instill confidence in these three Gujarati Youths or stay loyal with their Son of Soil PM "Narendra Modi"? These for me will determine the results of the Gujarat Elections.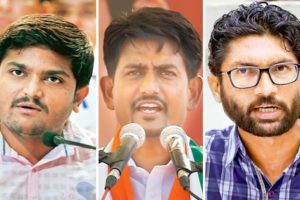 My Prediction
In these days of Exit & Opinion Polls, I have also decided to have my say. For me out of 182 Seats in Gujarat I see BJP winning between 100 to 110 seats & Congress around 60 to 70 seats. Being a ShivSainik, it's nice that ShivSena has decided to field candidates in Gujarat Assembly elections. Let's see how ShivSena fares in Gujarat after they got more than 1 Lac votes in Bihar Assembly Elections which were held in the year 2015.
Just hope people of Gujarat turn up in large numbers for voting & we see a close contest between BJP & Congress on result day which is December 18.